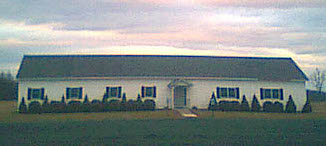 We extend a warm welcome to you to visit Grace Reformed Baptist Church. Please use this website to learn a little bit about ourselves and our ministry.

Hear us on SermonAudio.com
Grace Reformed Baptist Church on SermonAudio.com
Sunday Worship Services
9:30 am Sunday School for all ages
11:00 am Morning Worship
6:00 pm Evening Worship
Wednesday Prayer Meeting
7:30 pm - Nursery Available
---
From The Pastor's Study
May 9, 2001
What's In A Name?

It has been some fifteen years since the name of the assembly that presently meets as the Grace Reformed Baptist Church of Pine Bush, New York adopted that long and ponderous title for its official name. The Church did not receive the name Grace Reformed Baptist at its birth. In fact it was for the first ten years of its life known as the Good Shepherd Bible Church. The change of names was the result of the conviction that a name should tell you something about the thing so named. In the Bible that was the way that names were given. Even the name of Jesus tells the whole story of who he is and what he came to do. The angel said to His father Joseph "You shall call His name Jesus for he shall save His people from their sins". Matthew 1:21. The name Jesus means Jehovah our Salvation. His name revealed him.
MORE ...